Wedding flowers that are soft, organic and textural. Set the tone for your wedding with handcrafted, botanical-inspired florals.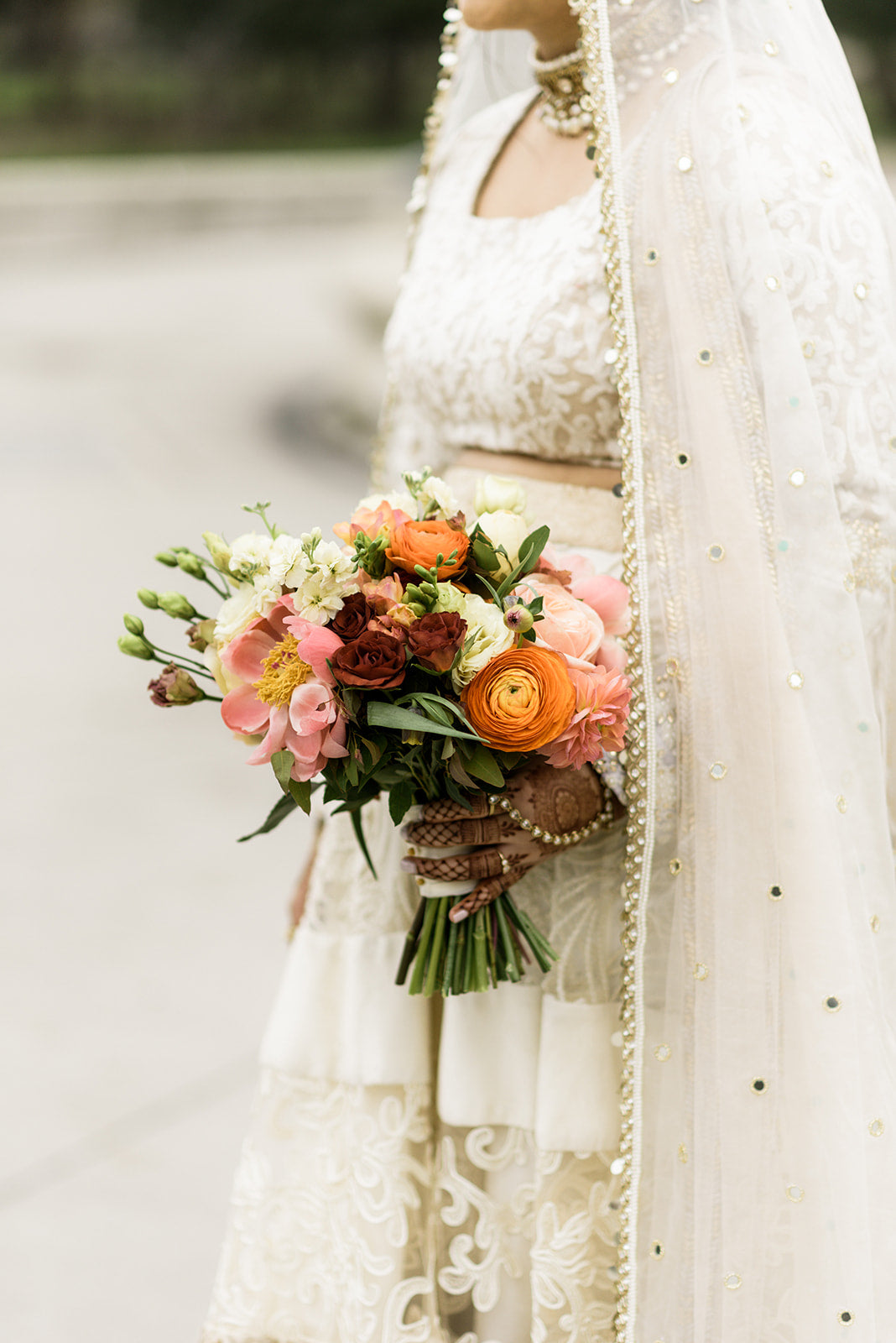 Bespoke Wedding Design
Custom bespoke design is suited for the couples who want it all! Personalized wedding floral design, from ceremony arrangements or arches to installations, unique bouquets and centrepieces; all with a custom palette and custom designs to suit your personal vision.
Our custom design is intended for couples looking for more complex florals that require on-site design assistance or a more specific palette or bouquet design than is available through our a la carte options.
Included in the Custom Design package is a personal consultation with our Owner/Head Designer Georgie Russell where you will discuss your floral wish list, and come up with a custom design proposal to bring your vision to life.
Our experienced team will execute delivery, set-up and any on-site design work, ensuring a breathtaking floral environment created with meticulous detail.
Custom Wedding - Inquiry Form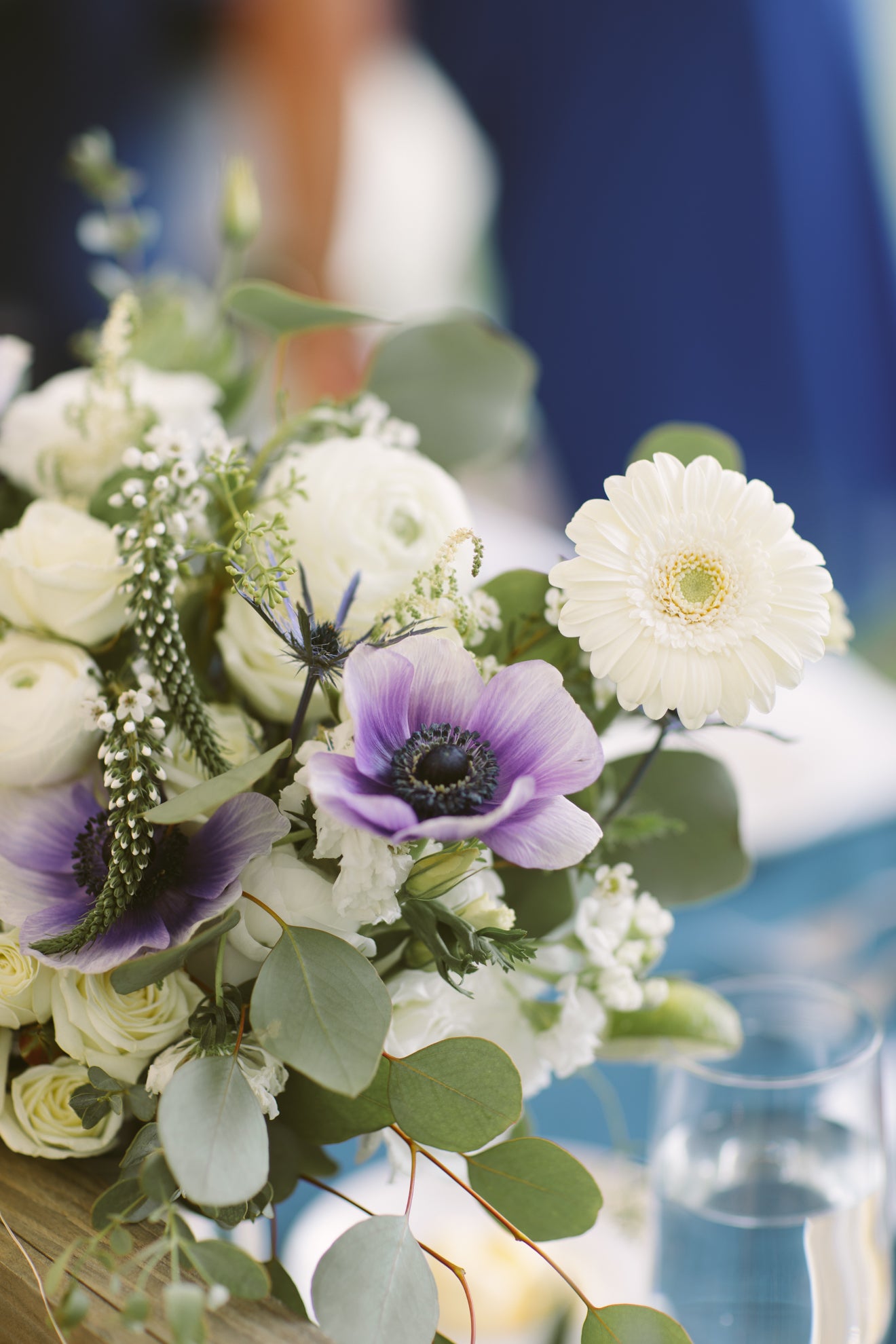 A la Carte
Our A la Carte service is designed for clients that love flowers and want beautiful blooms at their wedding or event, but don't require a custom palette or design. A few key floral pieces, best suited for mini weddings and elopements.
Simply choose your arrangements and preferred colour palette from our online wedding and event shop and we'll take care of the rest. From our signature bouquets to statement vase designs, greenery and cake blooms; you'll find everything you need on our menu.
We'll carefully create each item and have everything ready for pick-up at our shop. Delivery is available for an additional fee and is calculated based on the size of the order and delivery address.
We recommend this service if you're working with a more conservative budget or aren't interested in having a feature installation.
Signature bridal bouquet starts at $245.
We recommend a minimum lead time of two weeks notice to guarantee our availability.  Once we receive your order, our team will be in touch to confirm the booking and review the final details. 
Shop a la Carte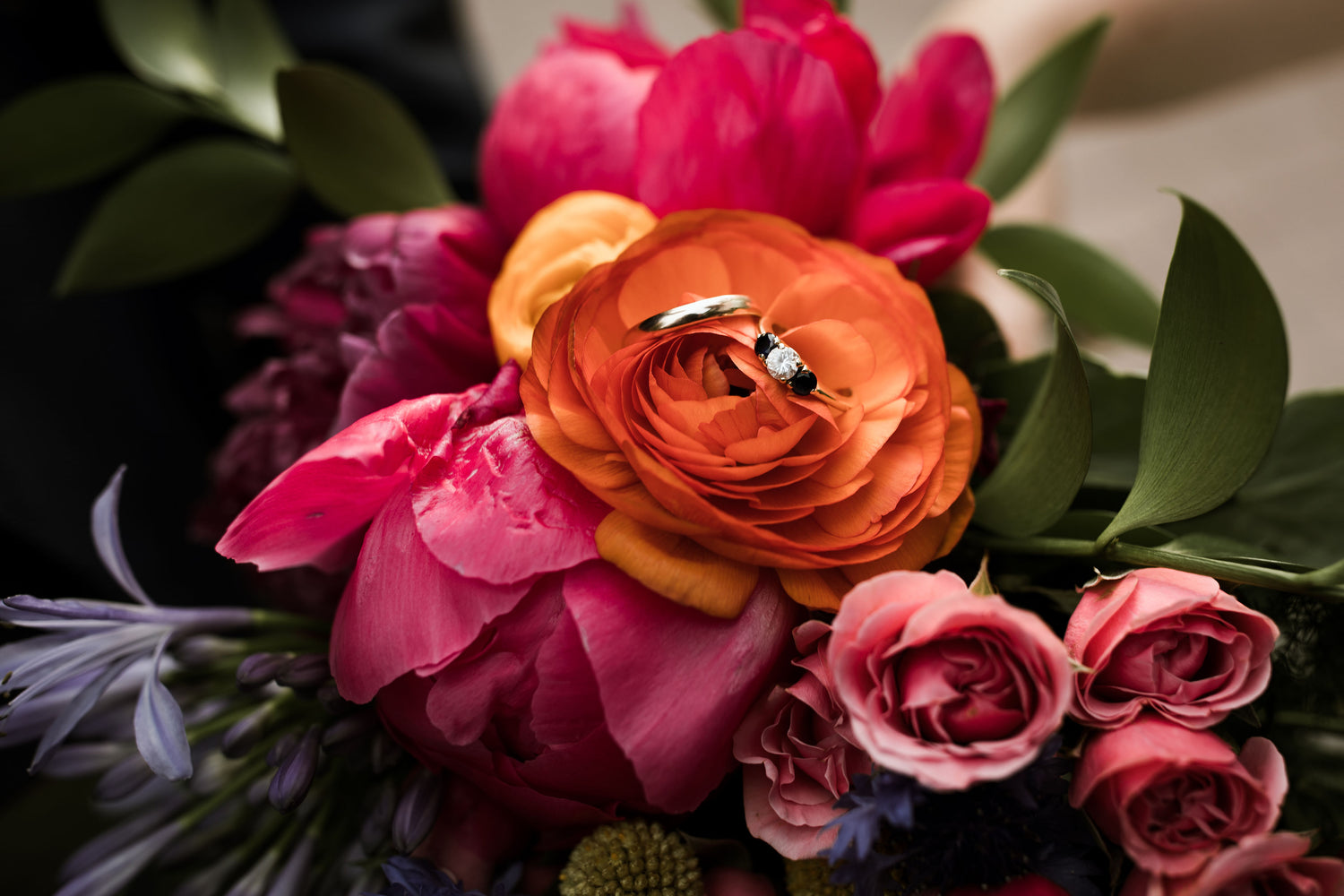 For further inspiration and to view images of our past designs, please view our wedding portfolio
Wedding Portfolio
Bouquet Comparison
Bespoke Design

Quality interesting flowers

Created with extended design time

Wider selection of colour palettes

Ribbon wrapped stems

Densely packed flowers / minimal greens

Deluxe flowers

Full service event with
installation

Custom colours

Consultation with head designer

Custom design / bouquet shape

A la Carte

Quality interesting flowers

Created with extended design time

Wider selection of colour palettes

Ribbon wrapped stems

Densely packed flowers/minimal greens

Deluxe flowers

Store Bouquet

Quality interesting flowers
Wedding FAQ
Do you have a minimum spend?

Our minimum spend applies only to individual items. Our à la carte florals are available to purchase in the quantity that you need. If you are planning an elopement and only need a bridal bouquet & boutonniere, you are welcome to purchase just those pieces. 

For all custom designs and installations, we do not have a minimum spend. Unlike most event florists, we are able to offer individual items. There may be some limitations regarding certain flowers depending on availability and seasonality. If you are interested in learning more about our bespoke wedding florals; please fill out our form below and a member of our team will reach out to you shortly.
What are Custom design services?

Our best designs come from those weddings that are looking for all types of floral arrangements- from bouquets and boutonnieres, to memorable ceremony installations, jaw-dropping centerpiece and table designs, and everything in between. If you are planning a smaller, more intimate wedding or elopement, we would still love to hear from you! Please note: consultations with our head designer are only available with our custom design service. 
How far in advance should I book my wedding florals?

We require two weeks notice for all à la carte wedding orders, however we will do our best to accommodate last minute bookings if possible.

For all bespoke wedding designs, we recommend reaching out to start the process and book your consultation 6 months before your wedding or event date.
Can I make special requests to my a la carte florals?

Our à la carte wedding florals are designed in i fiori's signature botanical style, using the best seasonal blooms and foliage. There is a range of palettes available, andminor written notes will be considered (no images!) while designing. 
I just want a bouquet and boutonniere but I have specific requests, what do I do?

We do offer consultation for wedding bouquets! You can specify colours, bouquet shape/design, favoured flowers, and the inclusion of personal items. Visual references are welcome! Please fill out our Bespoke Wedding inquiry form.
Can I pick up my wedding florals?

Yes! Pickups are available at our shop Tuesdays through Fridays from 11.30 am - 6pm and on Saturdays from 11.30am - 5pm.  Please share your preferred three hour time window when purchasing your wedding florals and our team will do their best to accommodate.
Am I able to get my wedding florals delivered?

Yes! We are able to deliver your wedding florals throughout the Hamilton area. If you are interested in delivery, please inquire ahead of time with our team for a custom delivery quote. The delivery charge at checkout is based on a standard order. Additional charges may apply based on scale, location and time of delivery.
If i pick up my wedding florals the day before, will they still look fresh?

Absolutely! We recommend picking up your wedding florals the day before your event if you have a long commute to your wedding or if you have a tight timeline in the morning. If you are picking up your florals the day before, we recommend keeping them in a cool, dark space overnight and making sure your arrangements are repeatedly topped up with cool water.

If you are purchasing boutonnières, flower crowns, or corsages, we recommend keeping them in the provided box and storing it in a fridge if possible as it will keep them looking freshest for your day.
The bouquets I get from your shop are pretty, can I carry that down the aisle?

You do you! But we can explain the ways that shop bouquets differ from wedding bouquets in terms of design, quality detail and style.
Can you use cheaper flowers to keep costs down?

The types of flowers we use range in price and are masterfully selected to offer a unique combination of blooms that represent our specific style, and maintain the integrity of our brand portfolio.